Southwestern Rugs
The term "Southwestern Rugs" refers to two major types of decorative rugs on the market: authentic Native American designs and modern Southwestern themed rugs. Both are beautiful and look great with many types of rustic or contemporary décor, offering great flexibility in price and style for the home decorator. Whether your home is done with a Southwestern theme, or you're a collector of textile art, you won't be disappointed by the Southwestern Rug's universal appeal.
Traditional hand-worked Native American rugs are loomed by the Navajo as well as the Hopi and Zuni Native American Tribes.
They are usually hand-woven using techniques mastered centuries ago, often on a wooden loom. Many rug buyers enjoy collecting Native American rugs that have been crafted by famous rug artists, or by specific tribes.
Native American rugs can be used as wall decor or placed on the floor. Since they're handcrafted, they can run in the higher price ranges—but in that same respect, they also make great investments and heirlooms.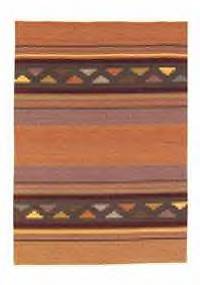 Contemporary Southwestern rugs use delightful Southwestern motifs, colors, designs, and symbols. These rugs are often crafted overseas.
They offer incredible versatility, a stunning range of traditional (and newer) color schemes, and they're softer on the pocketbook.
You'll find traditional block and line prints, mesas, helixes, and scores of other Indian designs, worked gracefully into rugs of wool, cotton, nylon, olefin, and polyester.
Try a layered "brick look" cream, rose, turquoise, and burnt sienna for the hall, or a round Navajo medallion for the entryway.
With names like Phoenix, Cheyenne, Navajo, El Paso, Taos, Westwind, and Pueblo, you're sure to get a rich, earthen rug that celebrates the beauty of Native American themes.
Many contemporary Southwestern Rugs intermingle Western American motifs into the work, including Meso-American tribal themes, New Mexico, Arizona, and TexMex style icons, and slick contemporary colors like teal, terra cotta, and turquoise.
As a favor to another website owner, here's their link...
Our partner: Online Solar Panels Inc -- cheap solar panel for home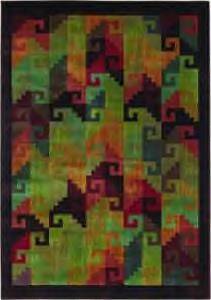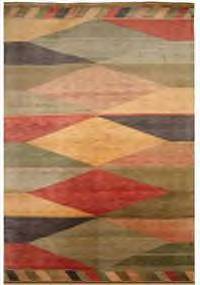 Go ahead, grab a rug that showcases petroglyph animals with a definitive New Mexico flair, or a rhythmic re-make of a Kachina dance. If you want to have a truly American look and feel in your home decorating, then a Southwestern rug will fit right in!
We have another page that has complete information on Navajo Rugs, the most popular type of Southwestern rugs. You'll see many different Navajo rug designs as well as a dye chart that shows the natural sources for various colors.

Use Rug Finder to See Rugs in Your Favorite Style, Color or Size!

Pick any desired aspect (style, color, material, size). Narrow it down, one option at a time, until you have a rug that's just right for you!
We highly recommended this source. They rank high in customer satisfaction and they have quality rugs in every price range.