Navajo Rugs
Authentic Navajo rugs are made by members of the Navajo Nation, which spans parts of Arizona, New Mexico, and Utah. It is one of the largest artistic communities in the United States. Native American artisans still produce rugs, clothing, jewelry, pottery, and art as they have for centuries, and their work is widely recognized as beautiful and collectable. The Navajo rug is perhaps the most famous of all their creations - finding a place in all types of homes, all over the world.
If you've thought about investing in art, or just hope to spice up a bland living room, one of these wonderful rugs might be the answer. Imagine buying a piece of artistic history that's both practical and affordable!
Navajo rugs are a timeless investment. They're still hand-woven on wooden looms by talented rug artisans, using time-tested techniques. Most Native American rug artists use historical themes, patterns, and colors, just as their ancestors did. Some artists are more experimental as well, adding a few modern twists to their age-old craft.
The picture (above right) shows a Navajo woman working at her rug loom. Rugs of different designs are made in different areas of the Navajo Nation, as shown on the map. Two major changes have happened since this map was prepared in 1966. First, the US government allowed the Navajo to expand their reservation further east into New Mexico to reclaim more of their ancestral land. Secondly, some of the creations, especially saddle blankets, are no longer readily available, mostly due to decreased demand.
Handcrafted Navajo rugs are strong, made to last, and they'll look great anywhere in your living space (even mounted as a wall hanging).
Once only available to those able to travel to the Southwest, or to those lucky enough to have a specialty Indian shop in town—Navajo rugs are now widely available on the internet, through art and folk shops, and via mail order. Whether you live in Iceland or New York, it's much easier to get beautiful, authentic rugs thanks to modern advances! Once you decide to explore the many design possibilities, you'll be pleased by the vast variety.
A typical Navajo rug design uses basic geometric blocks, jagged-edge shapes, and a host of earthen colors. Rose, terra cotta, tan, brown, white, cream, turquoise, and corn yellow abound, as do helixes, mesas, and "storm" shapes. Some of the more elaborate rugs also incorporate pictographs and petroglyph animal designs, or symbolic representations of Mother Earth and Father Sky.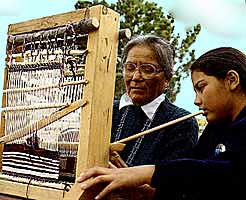 While most of these rugs don't actually use "official" patterns that they would use in religious ceremonies, they do use cultural imagery, icons, and design motifs seen throughout history. Some of the block-style, banded rug designs have origins as horse blankets.
Along with the authentic rugs, there are also plenty of Navajo-themed rugs ready to add beauty and charm to your home. Some of the finer Navajo rugs can run into higher price ranges. While they're still very reasonable for a handcrafted work of art, they might be out of reach for some budget-minded decorators. The simulated Navajo rug (usually made of cotton, wool, nylon, olefin or material blends) might be machine-made, or perhaps hand-made in China, India, and Tibet. They use traditional Indian themes and colors for some, and for others they take a more poetic approach, using TexMex pastels and modern tribal icons.
The imitation (non-authentic) rugs are beautiful and useful as well, plus you won't have to worry about the kids and pets running around on a fine work of art.
Whatever your preference in a Navajo rug, the bold, symmetrical designs and rich color palettes will give you plenty to work with. A well-placed mesa design can warm up a sitting room. A rich, creamy "phoenix" can bring a hallway to life. There is no limit to the look and layout potential when you call upon art that has stood the test of time!
Click here to see the fascinating History of Navajo Rugs, including the story of the "Spirit String."
Navajo rugs made the traditional way use natural dyes made from the bark, leaves, or stems of various plants.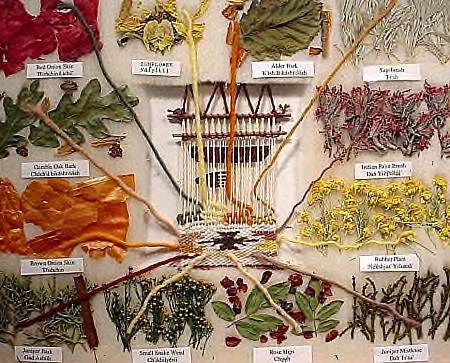 The dye chart above shows 12 of the plants that are used for dyes and which colors can be made from the plants. I have seen dye charts that have anywhere from 4 to 24 different plants on the chart.
This chart shows (starting in upper left corner and then moving clockwise): Red Onion Skin, Sunflower, Alder Bark, Sagebrush, Indian Paint Brush, Rubber Plant, Juniper Mistletoe, Rose Hips, Small Snake Weed, Juniper Bark, Brown Onion Skin, and Gamble Oak Bark.
Navajo rugs are part of the southwestern style of decorating. You can find out more about that and other casual, informal decorating styles, such as western, rustic, lodge, and country at Western-Home-Decor.net. You'll find lots of pictures of furnishings and accessories that show the wide-ranging variety of items loaded with natural appeal and down-home charm.


Use Rug Finder to See Rugs in Your Favorite Style, Color, and/or Size!

Select any desired aspect (style, color, material, size). Narrow it down, one option at a time, until you have a rug that's just right for you!
We highly recommended this source because they rank high in customer satisfaction and they have quality rugs in every price range.