Decorating With Area Rugs
There is no limit to what can be done when you're decorating with area rugs. You can mix and match them with a pair of The Shade Store drapes and your furniture. Since rugs can be used in many ways, both practical and decorative, it helps to be aware of some useful tips when selecting rugs for your home or office.
These tips for decorating with area rugs are merely suggestions and it's up to you to make use of any or all of the tips, as you see fit.
After all, what really matters is that you are pleased with the rug(s) you select and that you like the look and feel of the rug(s) in your home.
However, one thing that all rug owners/users should do is to use rug pads. Rug pads should be used under rugs no matter where the rugs are placed… on wall-to-wall carpeting or on bare floors. This is because rugs wear out from the bottom, caused by friction when the rug is walked on.
A good rug pad provides a stable, non-slip foundation for your rug and keeps it in place. A rug pad also helps keep your rug in good condition and adds to the life of the rug.
Use Rug Finder to See Rugs in Your Favorite Style, Color, and/or Size!

Select any desired aspect (style, color, material, size). Narrow it down, one option at a time, until you have a rug that's just right for you!


Size and Placement
When decorating with area rugs, size and placement of the rug will be one of the most important things to consider. Some of the standard sizes for area rugs are: 2'X3', 3'X5' and 4'X6'. Rugs of this size are often used to highlight something else in the room, such as a sofa, bed or fireplace.
A small to mid-sized rug can be used as a focal point by itself or with a piece of furniture placed on part of the rug. These rugs can also be used effectively in a bathroom, powder room, or kitchen, as well as an entry or hallway.
Common sizes for larger size rugs are: 6'X9', 8'X10', 9'X12' and 12'X15'. Ready-made rugs might be available in a size as large as 15'X18'. The larger sizes are usually used in living areas or dining rooms.
You may find that the availability of rugs decreases as the rug size gets larger. There may not be enough demand for certain materials or styles in the larger rugs, so it could mean shopping around a bit more to see if what you want is available.
Whatever size of rug you're thinking about getting, it's best to make sure that it fits the space. This can be accomplished with a tape measure and four sheets of plain paper. As you measure a space on the floor to match the size of the rug, place a sheet of paper to indicate each corner. Tape the sheets of paper in place with masking tape. Visualize the rug there and see how it fits the space. You may even want to do this for different sizes of rugs to find out if one size works better than another. Doing this before getting an area rug helps you avoid any unwanted "surprises!"
When thinking about the placement for your rugs, take into consideration things like floor vents and doors. Some doors may not have enough clearance to allow a rug underneath. Also, I have seen electrical outlets on the floor, usually in a large room with a sofa and end table away from the wall. That situation will most often be seen in larger homes or hotel lobbies, but it is a good example of what to think about in terms of rug placement.
On a hardwood floor, a large room-sized rug should allow at least 8 inches of exposed hardwood flooring to show all around the outside edges of the rug. The distance from the wall to each side should be the same and the distance from the wall to each end should be the same.
For example: in a room that measures 10'X14', a room-sized rug might be 8'X10'. This would allow a distance of one foot between the wall and each end (10 minus 8, divided by 2), and two feet between the wall and each side (14 minus 10, divided by 2).
The general guideline of equal spacing applies to room-sized rugs even if the room is an odd shape or if there is a closet or fireplace that protrudes into the room.
As much as we love rugs, they are just one part of the overall look and feel. So, when it comes to the floor underneath your rugs, you might want to consider Builddirect Flooring.


A Word of Caution About Placement
No matter which room a rug is placed in, avoid having the corner of the rug in the middle of an opening into another room or at the edge of a pathway. This could be a tripping hazard. It's fine to use rugs in traffic areas as long as it's a bigger part of the rug, and not just the corner.


Sitting Area
In a large room, a cozy sitting area can be created by placing a couple of chairs and a small table around a rug that is 4'X6' or 5'X8', or perhaps a 5' to 7' round or hexagonal rug. A rug with a lighter color and/or a soft or subdued pattern looks good in a sitting area.
A rug that defines a sitting area really sets that space apart from the rest of the room. It is common to have the front legs of the chairs on the rug and even all four legs on the rug if the rug is large enough. However, try to avoid having more than two feet of empty rug behind the furniture. It is best to arrange the rug and chairs in a sitting area so that the people seated in the chairs can have both feet on the rug.


Rugs Under Furniture
Many styles of rugs look good under a coffee table. Popular sizes for that placement are 4'X6' or 6'X9', with all of the legs of the coffee table on the rug. A rug might be placed a few inches under the front edge of the sofa if the rug is large enough to do that and still have all of the legs of the coffee table on the rug.
It is a well-accepted look to have the front legs of a sofa on a rug and the back legs on hardwood flooring or on wall-to-wall carpeting. Having the front and back legs of a sofa on a rug is usually not a good idea, unless, of course, the rug is a room-sized rug.
Use a measuring tape and sheets of plain paper, as discussed in a previous paragraph, to outline the space to get an idea how this would look. Also, you can make a floor plan to scale on graph paper and see how the entire room looks with different arrangements of furniture and rugs.
Use Rug Finder to See Rugs in Your Favorite Style, Color, and/or Size!

Select any desired aspect (style, color, material, size). Narrow it down, one option at a time, until you have a rug that's just right for you!


Dining Table
To determine what size of rug should be used in a dining room, measure the top of the dining table and add 24 inches (some experts say 27 to 30 inches) all around. This allows space for a person to get in and out of the chair and to move closer to the table or move back from the table and all the while the back legs of the chair are able to remain on the rug.
It's really a hassle if the dining room rug is not large enough and the back legs of a chair keep going over the edge of the rug. You might want to have people sit in the chairs and move back from the table as they normally would and then measure that distance to be sure what size of rug you should have for the dining room.
Other furniture in the dining area, such as a china cabinet or serving table, should not be on the rug, only the dining table and chairs.


Tip - Use Furniture Coasters
It is a good idea to use furniture coasters under the legs of your furniture, especially under sofas or other heavier pieces. This will distribute the weight of the furniture over a slightly larger area of the rug (usually about a two-inch area instead of a spot the size of a coin). The best coasters are the old glass coasters and you might be able to find some at antique shops, rummage sales or estate sales.


Rugs in the Bedroom
When a large rug is used in a bedroom, the rug does not need to be centered, but it should have the same amount of floor space on two or three sides of the rug. It is not a good idea to use a room-sized Persian or Oriental rug in the bedroom, because much of the pattern will be hidden under the bed in the dark and this makes the rug susceptible to damage from moths.
In many cases, multiple smaller area rugs can be used effectively in the bedroom by placing one at the foot of the bed and one or two on each side of the bed. In fact, using multiple area rugs can cost less while better complementing your furnishings.
Many types of bedding or frames found at a mattress store can complement area rugs across the home.


Open Spaces
Okay, let's take a look at using rugs in open spaces now that we've discussed using rugs under a coffee table, under a sofa, in a dining room and to define a sitting area.
One of my favorite decorating tips is that rugs look great in spaces where there is no furniture on the rug, including, in front of a fireplace, in the middle of a room, in front of a bookcase or in front of a sink. Rugs used in open areas can provide a splash of color to give the room more personality.
If a rug is placed in an open area that has lots of traffic, keep in mind that certain materials will hold up better than others in the long run. More information can be found on the pages that focus on types of rugs and rug materials.


Entryways and Hallways
A rug used in an entryway can create a welcoming feeling. It can be formal or informal and often sets the mood for other common areas, such as the living room.
A rug in a hallway can either be inviting people into the area(s) beyond the rug or it can help to separate the private areas (such as bedrooms) from the common areas of a house, depending on the layout of the house and the placement of the rug.


Areas of Heavy Traffic
In an area having a high amount of traffic, you might want to have a rug with a pattern in the midrange or darker tones because that helps to make the traffic patterns less noticeable.
Another thing to keep in mind when you're selecting rugs for high traffic areas is the durability of the rug. Handmade rugs have been proven to hold up better than machine-made rugs.


Stair Runners
One of the more practical decorating tips for rugs is that when a rug that is going to be used as a stair runner, a dark wool rug with a 'busy' pattern works well.


One Rug or Multiple Rugs
One large rug is often best if you want to have the elements of a room (rug, upholstery and window coverings) match or complement each other.
While a large rug can bring the features of a room together, multiple rugs can divide the room into different areas. There are a few decorating tips that may apply here, but the determining factor should be the overall look you want to create.
The most common decorating tips that apply when using more than one rug in a room indicate that the rugs should complement each other without being clones and that they have at least one aspect in common; whether it's design, color, or size.
Two rugs that are the same size will most likely divide the room in half, and that's fine, if that's what you really want. Using multiple rugs of different sizes allows you to create more interest or to define different areas or functions within the room.
One suggestion for multiple rugs is to use a rug under the coffee table and the front legs of the sofa, a slightly smaller rug to define a sitting area, and perhaps a small Flokati rug in front of the fireplace or a window seat.
Use Rug Finder to See Rugs in Your Favorite Style, Color, and/or Size!

Select any desired aspect (style, color, material, size). Narrow it down, one option at a time, until you have a rug that's just right for you!


Opposites Attract
The following ideas can often be applied when using multiple rugs in a room or when coordinating a rug with the upholstery and wall colors.
A rug with a pattern is able to blend in better than a rug with a solid color.
A floral pattern offers a pleasant contrast with geometric designs.
Rug patterns that are "busy" go well with less ornate designs.
A large pattern and a small pattern can go together well.
Use A Rug to Highlight OR Downplay the Existing Floor
In a room where you want to show off or highlight the existing floor, select a smaller size rug in a solid or perhaps a tone-on-tone pattern.
On the other hand, if you want to downplay the existing floor, then select a large rug with a strong, vibrant overall pattern.


What Do You Want for the Focal Point – Furniture or Rug?
Rugs can help draw attention to a certain part of the room or just be a focal point by itself.
If you want your furniture to be the focal point, you'll probably want to select a rug that picks up the colors in the patterns of the furnishings. Different patterns can usually be mixed as long as they are color-coordinated.
If you want your rug to be the focal point, a rug with a bold design works well when the sofa and chairs are a solid color or a subdued pattern.
Sometimes, a fireplace can be a focal point in a room. In that case, it works well to go with a rug having a more subdued all-over pattern so that the rug is not a distraction.
When two or more items are competing to be a focal point, it can upset the balance or harmony of the room. This can be avoided with good planning and/or placement.
The best rule of thumb to keep in mind is this: A rug can be "busy" or the other colors and patterns of the room can be "busy," but it's not good when everything in the room is "busy."


Create A More Spacious Feeling
A rug with a small pattern or a light color makes almost any room seem more spacious.
An acquaintance has a website about home decorating that has great information about decorating small rooms. You'll find tips that clearly outline what to do when your stuff (books, decorative items, and so forth) overpowers the space. Simple, but effective ways to open up the room and deal with all that stuff will make the room much more enjoyable.


Create Warmth
Deeper, darker colors in a rug can create a feeling of warmth or coziness in a room.


Use Various Rug Shapes
Don't limit your decorating plans to include only rectangular rugs. Give consideration to round, oval, hexagonal and octagonal rugs as well, since they can really add flair and elegance to your floor.


A Word About Fringe
Fringe on a rug can add a decorative touch. If your rug has fringe, you can keep it looking nice by being careful with the vacuum cleaner and not running the beater bar or rotating brush over the fringe. I would suggest vacuuming the main part of the rug as usual, but use the hose and an attachment, such as a crevice tool, to gently pick up dirt and debris from the fringe. More tips like this can be found in the section(s) on the care and cleaning of rugs.


Other Decorative Ideas for Rugs
One of the most unique decorating tips that I know of allows you to get extra use from a rug that may not be suitable to use as a rug any longer. Perhaps, part of it is too faded or worn. Make it into a sofa pillow by cutting out the good parts and using them to cover a pillow or fill material. Adding tassels to the corners of the sofa pillow gives it even more of a stylish look.
The same sort of thing can be to make a floor cushion (like a bean-bag chair) if you have a rug with a large enough section that still looks good.


Rugs As Wall Art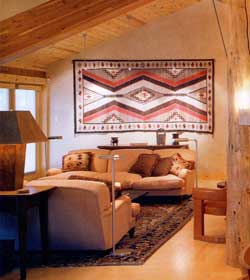 Some rugs look great when used as wall art. Attach it to the wall with large brads, tacks or construction staples along top edge of the rug, preferably something that won't show. Note... This may make small holes that need to be patched if the rug is removed from the wall.
Here's a stylish way to hang a rug. Use a decorative window rod that runs through loops made of upholstery fabric or tape attached in several places along the top edge on the back of the rug. Hang it between a pair of window brackets. Who says that window rods and brackets are only for windows?
Also, some rugs look good when displayed by hanging on a banister or draped over a sofa.
The popularity of the southwestern style of home decorating has really exploded in recent years. The same is true of other casual, informal decorating styles, such as western, rustic, lodge, and country. You can explore all of those styles at Western-Home-Decor.net. You'll find lots of pictures of furnishings and accessories that show the wide-ranging variety of items loaded with natural appeal and down-home charm.
---
This small rug (44in. X 24in.) is being used as wall art.
The picture quality is marginal, so I'll describe it. On the left is an arched doorway with a plant shelf above. Beyond the doorway is a hallway. To the right of the hallway are stairs going to the upstairs bedrooms. Light is coming through a small window above the front door and reflecting off the half-wall of the staircase (lower left).
Behind the wall art is a hallway at the top of the stairs. Part of that hallway juts out over the end of the family room. This part of the house has an open floor plan and several areas can be seen from up there.
It's hard to see much detail in this picture, but it does show how a rug can be used as wall art in a spot where most other items would not work.


Other Factors To Consider
In addition to thinking about decorating tips, other factors should be considered, such as durability. Many different rugs may give you the look you want, but if durability is a concern, you should also think about the choice of materials. For example, wool, a natural fiber, has more resistance to daily wear than synthetic materials. Plus, wool is good-looking and relatively easy to care for.
While there are plenty of decorating tips available for the use and placement of area rugs, I am not aware of any hard and fast rules. The one exception is the strong recommendation to use a rug pad under your rugs. Other than that, it pretty much comes down to what you like and what helps create the look and feel you want.
The phrase, "To each, his own" certainly applies when decorating with area rugs.


Shopping For Rugs
With so many rugs to pick from, you are sure to find just what you're looking for, whether you shop for a rug online or look for one in person.
We have plenty of links on this page as well as links and banners along the right side of the page that lead to a variety of rug sources.
You will be able to find contemporary rugs, children's rugs, Persian rugs, Oriental rugs, or whatever type of rug you want.

Email the link for this page to a friend!

Use Rug Finder to See Rugs in Your Favorite Style, Color, and/or Size!

Select any desired aspect (style, color, material, size). Narrow it down, one option at a time, until you have a rug that's just right for you!

Click here to leave 'Decorating with Area Rugs' page and go to home page