Outdoor Rugs
Years ago, outdoor rugs were ugly, but we still used them. We stuck them by the tool shed or poolside so we had something nice to stand on, but we didn't care much for their looks. Contemporary rugs for outdoor areas are a complete 180 from old-fashioned yard mats. Some of these rugs are so attractive and plush you'd almost think someone put a family heirloom out by the pool. These rugs have really grown up!
You can create any look or feel you want for your deck or patio with outdoor rugs. If you have a fantastic garden spot, gazebo, or even a simple set of lawn chairs, having a cushy rug at your toes can add that certain touch of style and charm. Since these rugs let you make sort of a fashion statement for your outdoor environment, they need to hold up well under extreme conditions. Thanks to a wide range of modern materials, this is now possible like it never has been before.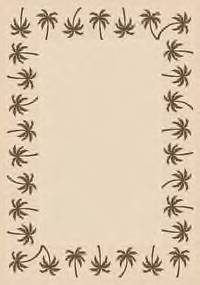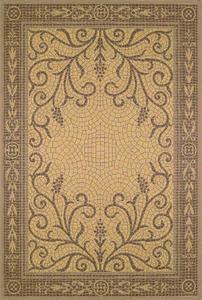 Outdoor rugs are typically crafted of olefin, nylon, or acrylic blends - all of which are highly resistant to water, wind, dirt, mildew, and fading.
Specialized dyes are used that further retard or completely prevent sun damage, guaranteeing long-lasting colors.
Most of the outdoor rugs are power-loomed or machine-woven, for an extremely tight, almost indestructible body.
These rugged rugs are perfect anywhere and most wipe or wash clean easily. They're also manufactured in a huge variety of shapes and sizes, allowing you to decorate everything from a tiny porch to a huge outdoor space.
Accent rugs, area rugs, huge floor rugs, runners and ovals are all over the market. Any shape you need, you can get. Don't forget to toss one by the picnic table or add one near the hot tub. You'll get plenty of compliments and your pampered feet will thank you.
There's no end to the design motifs you'll find. Whether you need an Adirondack bear & moose design to spiff up a mountain garden, or if you're into European fruits and florals, traditional Persians, or minimalist Japanese themes, there's an outdoor rug for your personality. Imagine indoor-outdoor slat bamboo rugs, creamy country vines and lattice, wild art deco flowers, colorful pop-art blocks, modern splashes and circles, funky jungle prints, or impressionistic motifs. Many American braided rugs are also crafted to transition to the out-of-doors, making them the perfect touch for cabin or country.
Imagine a rustic Persian rug, sprawling by the rose bushes - or a hip, chic color spray modern rug making impressions by the gate. Whether you're fashion slick or country rustic, an outdoor rug can turn a simple garden into an inviting open-air palace.
Rugs from America, France, England, India, China, Tibet, Pakistan, are ready to make a splash. Place a specially designed rug pad underneath your new treasure and you'll increase its lifespan and comfort factor.
Some outdoor rug designs are inspired by Southwestern stripes or helix themes. Others resemble delicate tropical beach mats, only a thousand times stronger.
Braided, woven, knotted - you name it - there's a tough outdoor version of every type of rug. So many options, such little time!
Forget those old and crusty outdoor rugs that we used to settle for.
Open up new possibilities with an outdoor rug that's alive with color, comfort, and personality. Impress family and friends and add a little more beauty to your outside environment.
Many outdoor rugs can also be used inside. See Indoor-Outdoor Rugs

Use Rug Finder to See Rugs in Your Favorite Style, Color, and/or Size!

Select any desired aspect (style, color, material, size). Narrow it down, one option at a time, until you have a rug that's just right for you!
We highly recommended this source because they rank high in customer satisfaction and they have quality rugs in every price range.