Indoor-Outdoor Area Rugs
Stylish. Durable. Fun. Affordable. The indoor-outdoor area rugs of today are all that and more! They've revolutionized outdoor decor and they're perfect for your home's "inner-self" as well!
Gone are the days when our choices for patio or poolside were limited to gritty, weather-beaten mats and tired old Astroturf squares. Now, you can dress up your outdoor areas with panache or go for a more casual feel.
Try a western theme for your barbecue. How about a patriotic feel for the Fourth of July? Indoor-outdoor area rugs come in a wide variety of designs and they can be changed in a matter of moments. Whatever design you pick, these versatile rugs add a nice touch to your outdoor living space.
Today's indoor-outdoor area rugs are a breakthrough concept. Imagine a rug that's functional, good-looking, available in many sizes, and can withstand the outdoor elements, kids, pets, and indoor activities. Indoor-outdoor area rugs can do just that - and do it in style. The variety that's available will have you outfitting your whole house with these go-anywhere floor coverings!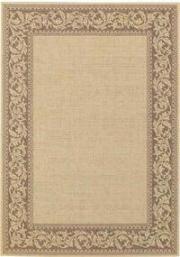 Indoor-outdoors area rugs are strong and versatile. These rugs are made to last. They can take a beating from barbecue weekends, wind, rain, and playtime. Most are constructed of highly stable man-made materials (like Olefin, a type of polypropylene). They're fade resistant, washable, and have an almost indestructible surface that is soft, yet sturdy. They look and feel like the type of rug you'd use right in the living room (and, in fact, you can), so your outdoor areas become warm and inviting.
There are also classic bamboo rugs, made outdoor-ready with a few special treatments. The kiln-dried natural bamboo planks are carefully woven and edged with a heftier material than their indoor-only counterparts. They're coated with a fade-proof and/or waterproof sealant that enhances the richness of the wood and makes these organic beauties worthy of your consideration. Indoor-outdoor bamboo rugs are handsome anywhere and available in a huge variety of shapes.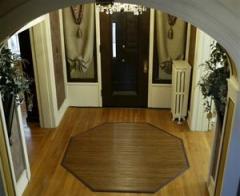 Place a hexagon rug in the hall or a giant round rug in the gazebo.
Indoor-outdoor area rugs are a great value for cost-conscious folks. You might even want more than one!
They're easy to roll up and take anywhere, no matter how large (many include a weatherproof carry bag). Imagine having your next picnic on an eye-catching giant jade bamboo rug!
Only a few years ago, the choices for our decks, poolside, and patios were limited to plastic squares or hard, unforgiving mats.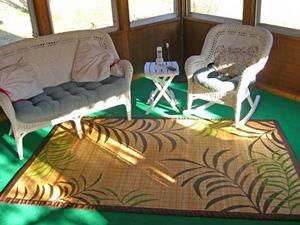 Indoor-outdoor area rugs have designs that look great on the patio, as well as in a sunroom or living room.
Instead of using a black plastic mat on the garden steps, try a lattice design accent rug.
Try a huge multi-colored design by patio chairs, or an old-fashioned braided rug for down-home charm.
The color palette of indoor-outdoor area rugs is amazing. Choose from classic earth tones to eye-popping orange. Find an English countryside ivory and gold, or a Southwestern style turquoise, coral, and adobe pink. Plop a tropical design by the poolside.
A new method of protecting rugs from strong sunlight prevents (or completely blocks) the fading you might have experienced in the past. These colorful designs can withstand heavy sunlight without breaking down or washing out, so you'll be confident enough to use them anywhere. And since there are a big variety of styles to choose from, you'll enjoy doing a little outdoor decorating, instead of just letting the house have all the fun.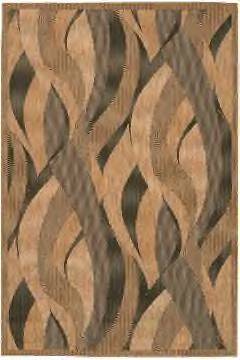 As the name implies, indoor-outdoor area rugs are designed for use anywhere.
Many people love using them in high-traffic areas, stain-prone spots, or areas where pets play or sleep.
These rugs don't have the rough, unfriendly texture that patio rugs had in days gone by. You'll want to use the new rugs anywhere people sit, cuddle, or even play.
If you have an active household, durable indoor-outdoor area rugs are an excellent choice, even if you have a family that loves to play in the mud!
Next time you want a new rug for your home or a decorative touch for your outdoor living space, check out the wide variety of indoor-outdoor area rugs on the market. You'll be glad you did!

Use Rug Finder to See Rugs in Your Favorite Style, Color, and/or Size!

Select any desired aspect (style, color, material, size). Narrow it down, one option at a time, until you have a rug that's just right for you!

Email the link for this page to a friend!