Zebra Area Rug - Sass with Class!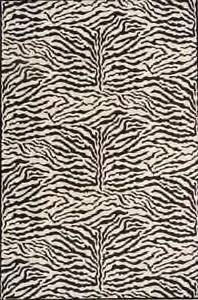 No doubt about it... a zebra area rug adds sass to your space. The contrasting black and white stripes are bold, fearless, and fun — and ready to show that you've got the same type of personality! Go ahead, add a safari-like look to your kitchen, or a splash of the exotic to your master bedroom. These rugs aren't afraid to be what they are, and they can take your humble décor to wild new limits.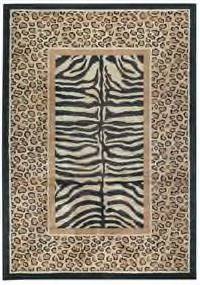 Zebra area rugs are found in three straightforward styles. There's the classic safari hunter type, which resembles a real cut zebra skin rug, complete with irregular, rounded edges and curves. If you're hoping to prove you're a hunter of acrylic zebras, this is the rug for you!
These clever creations look cute in the kids' rooms, displayed in front of a fireplace, or lounging about a sunny sitting room. You'll have people doing a double-take to see if they're real.
The allover zebra stripe pattern is the second type. While the hunter style rug also features stripes, this basic allover stripe pattern is done on a more refined, traditional rug shape.
You'll find rectangles, squares, ovals, circles, and sometimes even hallway runners done in the dashing black and white stripe.
These basic geometric rug shapes go anywhere and offer an extreme contrast of color and design, with clearly defined edges. Enough to make any room run at "full gallop."
The third type is the artistic license style. A rug designer might combine zebra stripes with renderings of actual zebras, parading across a contrasting background. Or, zebras and/or stripes are mixed in with other animal prints or safari herds. These contemporary "naturalist" types are better suited to those wanting a taste of zebra style, without going for the all-out blast. They work well with tribal, jungle, and safari themed décor; turning an ordinary home into a lush, exotic locale.
The best thing about a zebra area rug (aside from its amazing personality) is the sheer flexibility. You'll find these rugs in easy-to-clean nylon, acrylic, olefin, and synthetic blends. Cotton, wool, and natural fiber blends are also available, including many that are hand-knotted or hand-woven. Who would have thought a funky zebra area rug could be an artisan heirloom? Justify your love of the bold and fun by telling others that it's handcrafted and one of a kind!
Zebra area rugs are also available as sturdy indoor-outdoor rugs, ready to face the elements at poolside, on the porch or in your outdoor "room." Imagine the ease of bringing the wilds to your backyard, with no fear of fading or filth. Simply hose these rugged, yet decorative rugs down and they're ready for another round of outdoor fun.
Children usually love anything "animal." Watch the kids perk up as they play on a visually stimulating zebra print rug. Hear your teen say, "that's cool," when their new zebra print rug matches their modern black furniture.
With zebra area rugs... It's not just a rug - it's an adventure!
So, whether you're putting the finishing touches on a new room arrangement (and want to add a "wow" factor), or if you love rugs with pop and sizzle, a zebra area rug is certainly worthy of your consideration.

You're sure to find just the right rug (your favorite design in your choice of material, weave type, color, and size) at this highly recommended source. Go to Home Decorators
and then use the "Rug Finder" in the menu under the Rugs tab. Home Decorators ranks high in customer satisfaction. Plus, they all have quality rugs in every price range.


Email the link for this page to a friend!
Click here to go to home page