Transitional Rug - A Blend of Styles
Versatile. Eclectic. Stylish. A well-placed transitional rug can be all that, and more! These rugs fall in between the traditional Oriental or European designs and the more contemporary styles of rugs. As such, they artfully blend elements from traditional Oriental and European designs with a hearty dash of contemporary designer spice. They're the go-anywhere rugs that complement any room theme or color variation. A transitional rug designer combines the best from the oldest and newest rug styles to create exciting designs loaded with charm and appeal.
As with most types of rugs, transitional rugs come in a variety of materials, sizes and styles. Some of the most popular are the hodge-podge rugs that mix design elements from different categories to form unique, highly collectable, rugs. From floral designs and pseudo-Orientals to pop-inspired collages, there's a transitional rug to suit every taste.
Use Rug Finder to See Rugs in Your Favorite Color, Size, and/or Shape!
Click on the link above and use "Rug Finder" in the menu under Rugs tab. Select any desired aspect (style, color, material, size, etc.) and narrow it down, one option at a time, until you have a rug that's just right for you!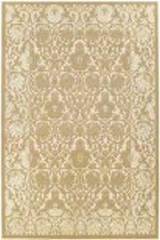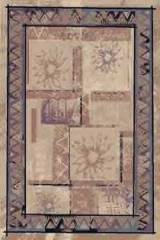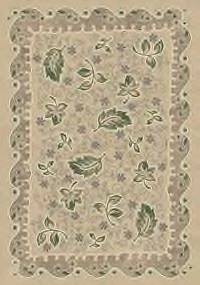 Floral rugs are a mainstay in home decorating, but not everyone likes a crowded country spread design. If you enjoy flower, herb, tree, and plant motifs, but don't care for country or European style, a botanical transitional rug might be just the thing. They offer a mixed bag of stylized, dense, sparse, and even Zen-inspired layouts. This gives you the freedom to use botanical or floral designs again, without shifting your room's theme.
Transitional floral rugs use color schemes not usually found in other styles, since many styles tend to be rooted in tradition. Transitional rugs also make use of little-seen plants as often as popular ones. Lush fern branches, often overlooked in European floral designs, are ready to take center stage. You won't find modernistic cherry blossoms on other types of rugs, but a design like that on a transitional rug is ready to bloom in any room. A good transitional rug is all about blurring boundaries and trying new things, without being tasteless.
Mandarin-influenced transitional rugs feature peonies, bamboo, orchids, and other Asian flowers, but without excess ornamentation. You might find an almost retro-style repeated plant pattern, or a borderline-modern bamboo forest, done in hot new colors. Think of the transitional floral rug as the ultimate in style blending; collage, modernistic shapes, new color palettes, and respect for the designs of nature—all rolled into one.
Transitional rugs also offer a fun spin on the pop-art inspired modern rug. Using a broader range of colors and a tendency for collage, they give a fresh feel to the popular modern rug line. If you've always been a little afraid to use a loud pop-art rug in the past, consider the contemporary-inspired transitional rug instead. They offer fun geometric prints, without being too garish or risqué.
There are also some transitional rugs that put a spin on theme rugs, such as Oriental, Navajo, and Tibetan. Some people dislike traditional Oriental rugs for being dense, dark, and overly ornate, but they like part of the color scheme (or some flourishes). A transitional rug inspired by Oriental themes but with a lighter tone and an opened-up pattern (less ornate) is more appealing for many people. Imagine a rich royal palette, with an ornate (yet open) design. Such a rug could be placed almost anywhere!
Navajo rugs are sometimes too repetitive or stylized to work with certain types of décor (like Art Deco, Contemporary, or Asian-Fusion), although there's no denying that the stepped mesa designs are attractive in the right setting. Transitional rugs take things like Southwestern geometry and update them with new colors and overlays, so they're perfectly at home in anything from a colonial room to an old hippy's hideaway.
If you're a home decorator who enjoys fusion, you'll be glad to have so many transitional rug variations available. They ease the shift between rooms with different design elements. They can fit in as the perfect "something" for a room where traditional rugs just don't work as well.
Try a transitional rug in your home's entryway, a hallway, under the coffee table, or even as a whole-room focal point. There are no limits to how and where transitional rugs can add style and charm to your home or office.
It's Easy to Find the Right Rug with Rug Finder (and Fun, Too!)
Click on the link above and use "Rug Finder" in the menu under Rugs tab. Select any desired aspect (style, color, material, size, etc.) and narrow it down, one option at a time, until you have a rug that's just right for you!