Sisal Rug
A sisal rug is great for putting a fresh new spin on all types of home décor. The all-natural reedy rug is making a hit with households of all types. From teen bedrooms and college dorms to upscale living rooms, libraries, and porches, the natural fiber look is all the rage.
Although they've been taking the decorating world by storm in recent years, the sisal rug isn't a new creation. Woven reed rugs originated in ancient Egypt as a natural plant material that was transformed from wild rushes into floor coverings, curtains, mats, and pads.
The concept of weaving native grasses also abounded on the Pacific islands, as well as in Thailand, Indonesia, and Southern China. Sea grasses and reedy plants make excellent rug materials, thanks to their rugged, natural construction and resistance to water.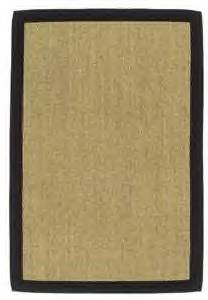 Sisal itself is a woody agave plant that grows in rosette shapes. The leaves are thick and sword-shaped and have been used by various cultures to make braided rope. The fiber is noted for its rich natural colors (shades of caramel, brown, and often yellow) and its incredible strength. Sisal also has a finer texture than other types of rope materials. Over time, the process of turning sisal into rugs, mats and curtains was developed.
Today, sisal is grown all over the world, where rug and rope makers transform it into items that retain the plant's tough and hardy nature. You can find a sisal rug in all kinds of earthen shades to fit in with any decorative style.
Most sisal rugs are machine woven to ensure a tight, rugged weave (there are also some handcrafted varieties available). These rugs are usually edged by cotton chenille or a similar fabric frame, to keep the body of the rug looking great for years.
Along with the cloth border, the backs are often treated with rug latex or a similar material that easily grips any surface, helping to prevent slippage and excess wear. Whether you're using one by the entryway or at the foot of the sink, a sisal rug won't let you down.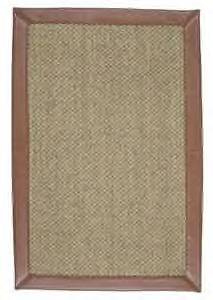 A sisal rug offers many great features! Besides being all-natural, they're ideal for anybody who has allergies to wool or synthetics. Plus, they're just right for those trying to get back to nature in furnishings and household items.
They also resist soil, dirt, build-up, and water, so cleanup doesn't have to be a chore. Their dense fibers have a natural sound-dampening effect, making them perfect for noisy areas.
Sisal rugs are inherently anti-static, so you won't need to think twice about using one near the computer.
The natural color of sisal is a pleasing neutral tan, with some expected variation. When bleached, sisal becomes off-white, ideal for clean and bright layouts. It accepts dye well, and can sometimes be found in muted shades of brick red, black, chocolate as well as dark green.
Since a sisal rug often resembles the more expensive Japanese tatami mat, you can understand why people go crazy over them. Sisal rugs usually cost less than any other type of natural fiber rug, giving people the opportunity to get more out of their decorating budget. Best of all, with a sisal rug, you can transform an ordinary space into an extraordinary place.

Use Rug Finder to See Rugs in Your Favorite Style, Color, and/or Size!

Select any desired aspect (style, color, material, size). Narrow it down, one option at a time, until you have a rug that's just right for you!
We highly recommended this source because they rank high in customer satisfaction and they have quality rugs in every price range.