Sheepskin Rug
The first thing people notice about a sheepskin rug is the delightful texture. By their very nature, they're 3-dimensional, adding luxurious height to the floor surface of the rooms they adorn. They are carefully crafted to strict, traditional methods, ensuring a beautiful product and years of charm. With a superior feel and a refined look, nothing adds an elegant touch quite like a natural puff of huggable sheepskin.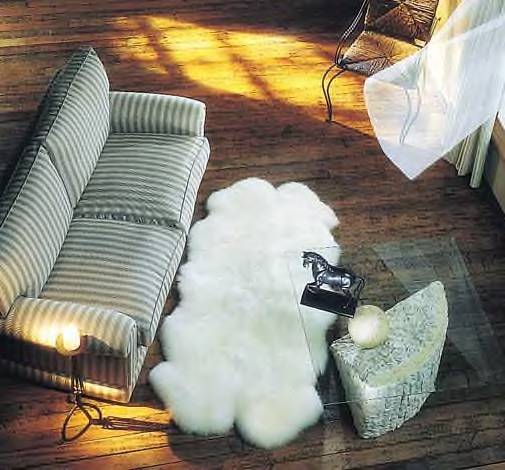 A true sheepskin rug is a natural skin taken from New Zealand sheep, so no two are ever exactly alike. They always guarantee powdery softness, though, so stepping into one is like walking across creamy white cumulus clouds. Your feet will thank you. Sheepskin is naturally thick, fluffy, and dense (they have to keep the sheep warm, after all!) and no synthetic rug can quite capture its look and feel. They're popular in colder climates where having cushy rugs is both practical and attractive. They're ideal for use on any floor surface - ceramic tile, vinyl, and wood or wood laminate.
Native New Zealanders and Greeks have used sheepskin to make clothing, blankets, and rugs for centuries. They recognized the cozy benefits of the sheep's soft fur and techniques have been developed to keep the skin every bit as wonderful as it is for the sheep. A sheepskin rug is 100% natural in most cases, with the original, supple skin usually still attached to the back. The rugs are done in a rustic freeform shape, adding to their decorative use and design flexibility. Most are also handcrafted, ensuring optimal beauty and lasting quality.
Sizing is a bit different for sheepskin than for ordinary rugs. Instead of the typical rectangular, circular, and oval shapes and their corresponding types, all sheepskin rugs are uniquely patterned because of the nature of the animal. They are grouped by number of ovals (connected pieces of sheepskin).
Sizing can go from single skin (about the size of a throw rug or accent rug) all the way through double, triple, quarto, sexton, and octo (a large area rug).
Since the rugs have an uneven shape, larger ones resemble interlocking long ovals; an interesting shape to work with for any designer. Most sheepskins have fluffy pile between 2 to 3 inches high.
Some sheepskin rug producers also carefully dye the wool to expand the rug's decorative potential. You'll find the typical natural white, cream, off-white, and gray, as well as ocean, teal, green, black, chocolate, rose, terra cotta, blue, and other excellent shades. Wool takes well to dying, so the rugs look fine in any hue.
Nothing beats a New Zealand sheepskin rug for optimal beauty and lasting appeal. The soft, wooly texture warms a room like nothing else. With the wide range of colors, you're sure to find one to complement your furniture. A classic sheepskin rug can bring a snuggly ambiance to any spot in your home. Warm up that cold study or make a bedroom plusher. Sheepskin rugs are cuddly-soft and irresistible. You'll probably want more than one!

Use Rug Finder to See Rugs in Your Favorite Style, Color, and/or Size!

Select any desired aspect (style, color, material, size). Narrow it down, one option at a time, until you have a rug that's just right for you!
We highly recommended this source because they rank high in customer satisfaction and they have quality rugs in every price range.