Shag Rugs
Shag rugs are the epitome of cool. The pinnacle of hip. There's nothing quite like a wild, puffy shag on a hardwood floor. It's not hard to imagine a line of shags in a beat poet's loft or a cutting-edge artist's studio. Whether you're trying to add pop to the living room, or hoping to please a difficult teen, shag rugs are still all the rage (and in all kinds of colors, too!).
Shag carpets/rugs are a contemporary style, with roots in the funky pop-art of the 1960's and early 1970's. A true shag is characterized by long pile strands, or mixed long, medium, and short pile attached to a sturdy backing. The varied strands give shag its characteristic "cloud" look and supple feel, literally bringing the rug to life the way no other rug texture can. With three-dimensional personality, a shag rug can bring energy to flat, smooth and simple surfaces in a snap.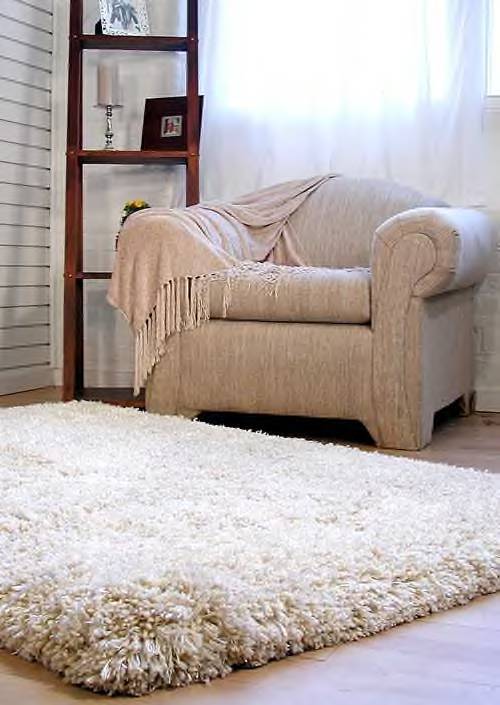 The most popular shag rugs are made from cotton, acrylic, polypropylene, nylon, or synthetic blends. They come in a rainbow of color choices; everything from yummy lime to hot orange, bold black, natural brown, and canary yellow. That spare bedroom in purple is easy to match with a grape-hued fluffy shag. The sunny breakfast nook can benefit from a rich white cloud, drawing in sunlight and spreading warmth.
With colors as varied as a painter's palette, shag rugs can easily turn any room into a work of art.
Cotton jersey shag rugs use thick and thin textures, along with the short and long strands. The result is a denser form of shag, with thicker "wigglies" that provide a soft, bumpy feel. Cotton shags are often called "shaggy" shags because the combination of strand types gives them a purposefully messier appearance. These rugs look great in dorms, teen rooms, playrooms, and game rooms, with a decidedly casual feel in a range of tempting colors. Their overly textured surface demands a second look. And, for people who like sitting on the floor, shag rugs make an ideal seat!
Use Rug Finder to See Rugs in Your Favorite Style, Color, and/or Size!

Select any desired aspect (style, color, material, size). Narrow it down, one option at a time, until you have a rug that's just right for you!
Flokati rugs are a traditional Greek folk design, crafted for centuries in a very special way. They use New Zealand or Greek wool that is specially combed and treated; creating the softest bit of heaven you've ever laid bare feet on. Flokati rugs are the elite ancestor of the modern shag, providing unbeatable softness and heirloom potential with an amazing handcrafted look. If you like the 3-D effect of shag, but want something more traditional, then Flokati shags might be more to your liking.
Like Flokatis, Aros shags use New Zealand wool as their primary textile, presenting a rug that's softer than air. Walking on an almost even layered Aros is like treading across a field of cotton candy; your feet will thank you for it. They come in a handy array of classic colors, including a few from the candy counter. Aros is a good selection for those who like the "puff" but not the "bush" effect.
Leather shags are relatively new to the scene, offering a truly sultry, almost hypnotic feel to the genre. One can imagine a leather shag in a cool dude's bachelor pad, or at the base of a grand desk in the boss's corner office. Their thick, ruffled strands are made of natural leather, suede, or a combination of both - providing a dense, sturdy surface that has unbeatable shape. Most leather shags come in warm, dark colors like chocolate, black, brown, and tan (with some in white and ruby red). Leather shags are praised for their strength, flexibility and deep tones. Try giving some as gifts to the more refined members of your family next time you need to impress!
Love Fur is another new addition to the shag family. These plush, satiny beauties are imported from Japan and use a special type of acrylic that gives them a decidedly plump feel. Like sitting on a giant faux fur coat, Love Fur shag is rich and cozy, with a wallet-friendly price tag.
When you're decorating, consider more than a rug's look, price, and color. Consider the effect a 3-dimensional texture can have on your room. Dip into the sense of touch as you adorn your living space with rugs that have body, as well as form. Your home will never look better!

Use Rug Finder to See Rugs in Your Favorite Style, Color, and/or Size!

Select any desired aspect (style, color, material, size). Narrow it down, one option at a time, until you have a rug that's just right for you!
We highly recommended this source because they rank high in customer satisfaction and they have quality rugs in every price range.