Oriental Rug
An Oriental rug is the granddaddy of all rugs. These types of rugs are found everywhere, from the finest palaces and embassies to the humblest of 1-bedroom apartments. They exude regal glamour and refined antiquity in a way that no other rug can. They're the richly colored, highly ornate floor coverings that grace the pages of top decorator magazines and warm the floors of the wealthiest manors. In fact, when thinking of rugs, many people think of an Oriental rug.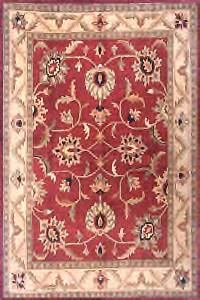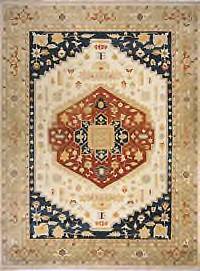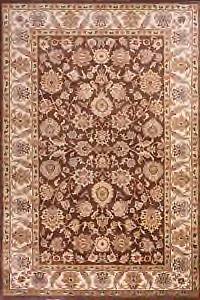 Use Rug Finder to See Rugs in Your Favorite Style, Color or Size!

Pick any desired aspect (style, color, material, size). Narrow it down, one option at a time, until you have a rug that's just right for you!
The actual phrase "Oriental rug" is an antiquated (but still used) term that refers to a wide range of rug types and rug makers based in Asia, Eurasia, and parts of the Middle East. Oriental rugs have historically come from China and other related regions. Oriental rug is a somewhat generic term for the rugs produced by the artisans in these locations - and it is often further broken down into specific sub-groups (like Persian Rug, Kurdish Rug, Chinese Rug, etc.), to define specific areas.
An Oriental rug can be made using various methods. Many are still hand-knotted, hand-loomed, or hand-woven as they have been for centuries. Others are machine-loomed in response to our fast-paced contemporary lifestyles. Still others use a combination of handcrafted and machine-worked techniques to produce stellar rugs at a fraction of the cost. The handmade varieties are more expensive and carry the distinction of being one-of-a-kind artwork, while the factory spun styles offer a bit more flexibility. Whatever type works best for your situation is sure to bring you many years of enjoyment.
Buy a Silk Oriental Wall Scroll to compliment your Oriental rug.
In traditional, antique Oriental rugs the designs were complex, ornate, and heavily pigmented. Arcade designs, central medallions, paisley, Afshan (scattered) layouts, and curvilinear looks were the norm. Often done in rich, deep earthtones, crimson, gold, black, navy blue, or bronze, the heavy Oriental rug was a dark, grand presence in any room. Over time, additional colors were added to the antique scheme, including celadon, jade, white, cream, light gold, medium blue, brick red, and plum, but the patterns were still usually tight and intricate; astonishing and intriguing to Western eyes.
The modern Oriental rug has grown up a bit. While the traditional motifs are still popular, contemporary spins are handsome and active. Lighter colors, open designs, and the addition of modern art themes have found their way onto many an area rug. Imagine filling your living room with a wide, elegant rug that's tuned in to teal, crimson, and gold – a modern flair that matches your furniture.
Or, picture an almost arabesque design bringing new life to your den with peppy pastels. There's no limit to the possibilities.
Most are still done in 100% wool, silk, or cotton. Some are made with blends of those materials, while others are crafted of updated materials like olefin, polyester, or a blend of natural and synthetic materials. Each type of rug material has its own attributes, so it's good to be aware of what will best suit your needs when choosing your masterpiece.
There are also pseudo-Oriental rugs on the market, manufactured in Europe or America. They use traditional designs, but they're produced domestically (and often machine loomed), so the price is usually more affordable. Many are so well made that they look handmade. Your guests may never know the difference! Lower priced domestic Oriental rugs give you more design options, especially in high traffic areas where you may not want to place a more expensive piece.
Whether you're shopping for one of these fine rugs as an investment, a family heirloom, or if you're simply looking for the right touch for your home, there are numerous rugs available to meet any purpose, any room, and any budget.
Oriental, the classic rug of rugs is still making waves after all these years.

Use Rug Finder to See Rugs in Your Favorite Style, Color or Size!

Pick any desired aspect (style, color, material, size). Narrow it down, one option at a time, until you have a rug that's just right for you!
We highly recommended this source because they rank high in customer satisfaction and they have quality rugs in every price range.