Cotton Area Rugs
Cotton area rugs just might be the most versatile rugs of all. Cotton is fresh, flexible, and full of color and it takes well to various rug-crafting methods. Cotton fiber provides years of sturdy and beautiful use, plus cotton is ideal for families with allergies to wool or synthetic materials.
Cotton is a natural material harvested from the cotton ball or seedpod of the cotton plant. The airy fiber is spun and transformed into usable "strings," which are then further combined and processed to form cloth and dense fibers. The resulting material can be woven into clothing, towels, bedding—as well as various types of useful and decorative rugs.
The most common use of cotton in area rugs is as a sturdy backing pad; the backer through which rug artisans pull the other material for knotting or pile. Cotton also surfaces as the fringed edges of border rugs, providing an attractive look with strong, soft fibers.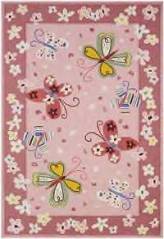 Beyond the uses of cotton as a supportive material, many rugs are made entirely of cotton, including all aspects of the pile, knotting, or shag chunks.
Any style of rug, including rich, ornate Persian rugs and frilly European floral latticework designs can done in soft, sturdy cotton or cotton blend.
Use Rug Finder to See Rugs in Your Favorite Style, Color, and/or Size!

Select any desired aspect (style, color, material, size). Narrow it down, one option at a time, until you have a rug that's just right for you!
Cotton area rugs are soft, resilient, and they take dye well. They're cozy and collectible—and they're all natural!
The most common cotton area rug is the rustic American braided colonial rug. These heartwarming country favorites were originally fashioned by the practical, pioneering American settlers. Rather than toss out perfectly usable cotton scraps, they fashioned them into carefully rolled, twisted and woven braided rugs that were as sturdy as they were colorful. Cotton braided rugs add the right tough of country charm to your home, or a comfy feel to even the most modern layout. Cotton fibers work well in curled, braided form and also blend easily with nylon and chenille to produce truly heirloom-quality flats. Even the Amish primarily use cotton for their handcrafted flat-weaves!
Pastel rainbows, colorful calicos, and a hodge-podge of fun color schemes make the braided oval a great addition to bed, bath, and breakfast nook. With coordinating accent and stair tread rugs, your country braided round will fit right in and be the element that ties the room together.
Also common are the delightful, sometimes whimsical, country and floral rugs—often hand-hooked or hand-knotted in rich cotton fibers. Brazen sunflowers, exotic ferns, ivory latticework, plump strawberries, and home garden zinnias explode in full color across these plush, finely crafted rectangular rugs. They're ideal for use under the dining table, on display in a large kitchen, or adding a natural touch to a formal sitting room.
Cotton area rugs for the kitchen often sport traditional down-home motifs. These simple and attractive cotton area rugs showcase everything from plucky roosters to European-style all-over floral designs, butterflies, palm trees, tropical fruits, veggies, and leafy scrollwork. They'll add spark and spice to a kitchen of any size.
Another popular use for all-over cotton are prairie rugs (also called cotton rag rugs). These flexible, adaptable rugs sometimes have an attractive cotton fringe at each end.
Often thread-dyed in bright colors or layered stripes, they add a certain casual touch to any room, from office to den.
Some children's area rugs are also cotton-fiber blends, ensuring deep color and the easy-to-clean surface parents want.
There are also lines of colorful, modern rugs made from cotton, such as cascade rugs, allowing you to add the pop and sizzle of a modern print to any part of your floor. Cotton jersey shags are another form, offering a huge range of colors in chunky, irregular shag surfaces. Cotton area rugs look great in dorm rooms, stylish living rooms, and in your teen's private retreat.
Whether it's a room-sized area rug, or a living room accent, cotton area rugs get the job done!