Children's Area Rugs
Thanks to children's area rugs, your child's room doesn't have to be boring! Forget plain flooring and drab décor. Forget worrying about watching the kids ruin expensive accents. These rugs are designed for fashion and fun, providing new depth to playrooms and new possibilities for kid comfort.
Whether you're the proud parents of a new baby or a long-time family, you're sure to be pleased by children's area rugs that can spruce up a room or add an educational touch. The wide selection of area rugs for kids has come a long way since the days of braided circles and carpet squares.
Children's area rugs can be found in every style from pastel color blocks to Mary Kate & Ashley fashion rugs that are full of personality. You and your child will have fun looking at all that's available!
You can also find modern rugs, designer rugs and rugs for learning. Interactive rugs that look like little villages are a kid favorite!
Anything you can dream of is available for your children's room these days, with most styles produced in sturdy, stain-resistant materials so you won't have to worry.
New studies have proven that children who are exposed to a more artistic or eclectic environment grow up smarter, more skilled, and more likely to succeed. As you can imagine, parents hoping to give their kids a head start look for rugs and room decor that provides a stimulating and visually appealing experience. Choosing a brightly colored polka dot area rug, an abstract design, or a stylish gradient rug with interesting shapes can do more than make your little one's room look great. It can stimulate thoughts and stir the imagination!
Many area rugs for kids have an interactive educational approach. There are whole lines of rugs that have been designed for learning. Try one of the many "Learning to Read" types, where colorful alphabets, phonics, and letter sets dance across soft, durable rugs. Plunk the little ones down and watch their eyes light up as they learn the alphabet by touching, sitting, and reading. Imagine all of the mini-lessons you can give, helping them to identify sounds and letters - on a children's area rug that's larger than life!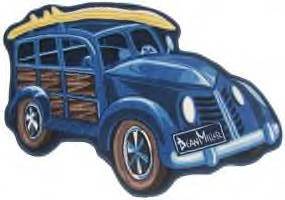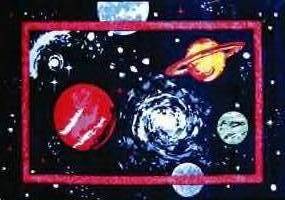 There are also educational children's area rugs that help them learn counting and math skills as well as sign language, using neat hand layouts!
A cavalcade of brilliant numbers marches across
a black background or a circle of cream, just inviting the kids to count and play!
Whether you're hoping your kids can get a jump on shapes, colors, and the three "R's," or if you're reinforcing information for a child with a learning disability, the "kindergarten" style educational rugs are a hit. They look great and they have a lasting impact on your child that will outlive even the rugged rug itself!
Reading, Writing, and Arithmetic aren't the only things that a children's area rug can help with. Safari animals, sea creatures, counting circles, multicultural faces, human expressions, and the entire animal kingdom are ready to make a splash on the floor of your child's room.
Kids love animals and faces. So, imagine happy elephants, fish, whales, and giraffes, and people dancing across a plush surface, ready to teach the kids about life, biology, and humanity.
Give mini science lessons or encourage kids to learn about reptiles, amphibians, and mammals. You'll see that getting an affordable children's area rug is really a wise investment.
On top of the educational designs, there are many types that are just plain fun.
Interactive rugs offer city maps for cars and/or dolls, or checkerboards for actual game-play (bring your own checkers). Farms, villages, construction sites, and cities are ready for role-playing.
Click here to go to KidCarpet. You'll find carpets and rugs designed just for kids. Animals, educational themes, game boards and much more.
It gets even better...
At KidCarpet their carpets and rugs aren't just for kids! Take a peek and see how you can create all kinds of custom rugs when you get an image printed on a rug OR pick a border and type in your message.
* Put your child's artwork on a rug instead of taped to the fridge
* Get a custom rug made from your favorite family or vacation photo
* Let your dog/cat curl up on a rug made from their puppy/kitten photo
* A personal greeting on a rug in your entryway will delight visitors
* You can put your company logo or motto on a custom rug
At KidCarpet page, click on green box that says "Design Your Own..."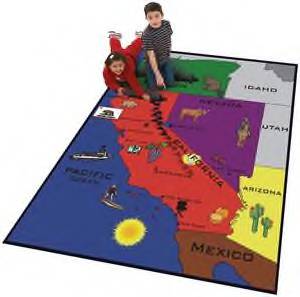 Maps of the United States, the World, and numerous other locales are ready for learning and imagination.
Fun cartoon designs will bring smiles and giggles and famous sports teams, comic book characters, movie stars, and heroes will let kids enjoy their favorite entertainment, any time!
With nylon, wool, olefin, cotton, and polypropylene available, you can have any type of texture, strength, and clean-up value for a fantastic price.
Forget boring old carpet and blasé vinyl. Add a touch of creativity to your youngster's lives with children's area rugs!

. . . . .

Use Rug Finder to See Rugs in Your Favorite Style, Color, and/or Size!

Select any desired aspect (style, color, material, size). Narrow it down, one option at a time, until you have a rug that's just right for you!


Email the link for this page to a friend!
Click here to go to the main page