Animal Rugs
Animal rugs are all the rage. Whether you buy one for the kids' rooms, or your wet bar, animals are "in" and they make a hip statement on any type of flooring. Go ahead, grab a few and give your home an adventurous feel.
There are many types of animal rugs on the market. From refined to funky, there's something that's sure to make your heart pound with excitement.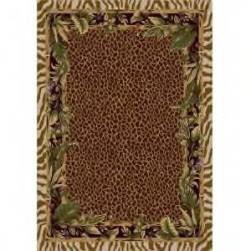 Animal print rugs can mimic actual coloration and fur of exotic critters from around the world. You'll find a savannah full of zebras, tigers, lions, leopards, cheetahs, giraffes, and other creature "pelts" available in area and accent rugs.
A splash of animal patterning adds interest and depth to your decorative theme. The vivid safari colors are easy to match with today's furniture and paint styles.
A zebra accent rug might give a dorm room just the right zing.
Animal rugs also come in cowhide styles, or realistic "pelt" shapes.
These cute cutouts are shaped like real animal furs (only no animals get hurt in the process).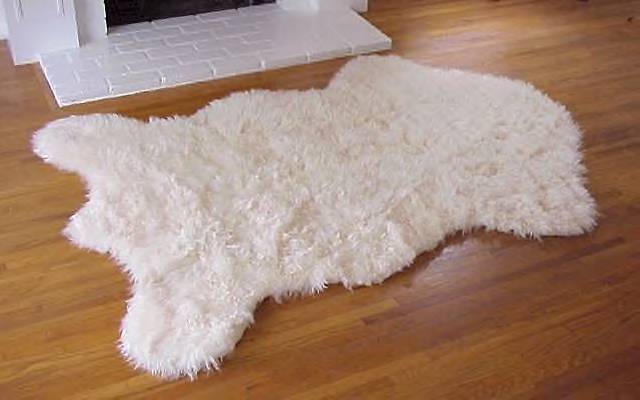 These shaped rugs are truly clever and you'll "wow" your visitors with their casual charm.
You'll also find animal rugs which feature full-sized animal designs and wildlife portraits. Snarling tigers, graceful horses, howling wolves, and thundering elephants abound. There are bass fish prints for the fisherman's den. Colorful aquariums for a lively living room. Black panthers and brave eagles for a bountiful bedroom. All types of critters appear in realistically rendered portrait art, on everything from machine-woven nylon to hand-tufted wool. Take your pick. You won't be disappointed.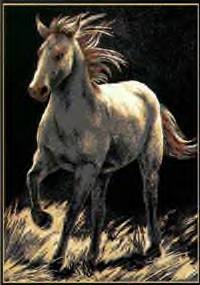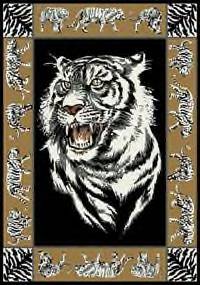 Sometimes your home needs uplifting - something outside the realm of the formal and traditional. If your bedroom needs a decorative boost, there's a zoo full of cartoon critters for the taking.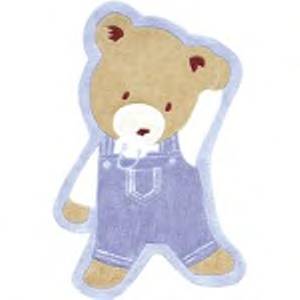 Whimsical fish, pigs, cats, horses, and even tigers and bears are ready to dance through your home, bringing a smile to your hallway or a laugh to your bath.
Don't dismiss their usefulness outside of the kids' rooms, either. Many pop-art and cartoon rugs are charming enough to work in any major living space.
Animal rugs are also available in outdoor fabrics. Heavy-duty, UV-resistant materials make up a new wave of quality outdoor décor. Outdoor rugs are perfect for padding a wooden porch, or adding character to the poolside. They're tough, colorful, and fade resistant, for long-lasting service. You'll find all-weather rugs with many different animal prints and styles, including tropical fish, tidal pools, safari patterns, wild horses, fur patterns, wolves, buffalo, and other wildlife. Who can resist a host of tropical birds as the focal point of a garden gazebo?
Pet lovers will also find critter-sized rugs for their furry family members to enjoy. There are plenty to choose from these days; so pampered pets can enjoy their favorite sunning spot on a comfy, durable rug. Pet rugs can help protect furniture, carpet, and other special spots from pet hair and damage, while offering an attractive way to show how much you care about Fido and Fluffy. Paw prints, art deco borders, and whimsical designs abound. So, pick one that matches your furniture as well as your pet's personality. You already spoil your pet and give them special treats, so why not get them their own special rug?
Animal rugs are an ideal way to open up a room. They add visual interest to your floor and coordinate nicely with most types of furniture and room décor. With so many styles and materials to choose from, you're sure to enjoy a good rug hunt. And, since you get to take home any animal you like, it's even better than an African safari!